Now it's time to talk about the most famous of all the Brooklyn funk record labels, Daptone Records. The label was formed out of Desco's ashes in 2000 by Gabriel Roth and Neal Sugarman. Without further ado, here is the Daptone catalog (it's much longer than any of the other labels because it has lasted so long).
Dap 0
01 Sharon Jones & the Dap-Kings- Dap Dippin With... (2002)
Daptone's first full length release by Brooklyn's own funky diva, Sharon Jones. However, she's no rookie; she had a single or two out on Descoback in the 1990's. This is her first full length, and its the nastiest, grittiest, and funkiest of her career to date. Every track is fantastic and they will all have you up on your feet dancing your ass off.
Dap 002 Sugar
man Three and Co.- Pure Cane Sugar (2002)
This is the Sugarman Three's third album. This time the band is fleshed out with a bunch of guests including trumpet, congas, clavinet, and baritone sax. Along with those guests there are three guest vocalists on the album, Charles Bradley, Naomi Davis, and Lee Fields. On top of that, as if that wasn't enough, there's one more guest, the drum LEGEND Bernard "Pretty" Purdie. All of these special guests really make it an exciting album, however it is the one I go back and listen to least. That's not to say it's a bad album at all. I honestly don't think the Sugarman Three are capable of putting out a bad album, it's just not as good as
Sugar's Boogaloo
or
Soul Donkey
. That being said, the vocal cuts are great and though the instrumentals are in a different style than their previous two albums they've still got it.
Dap 003 T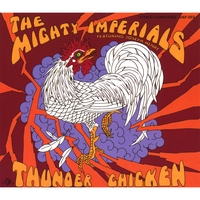 he Mighty Imperials- Thunder Chicken (2004)
This album was recorded way back in 1999(ish) and was supposed to be put out by Desco but was never officially released until Daptone was kind enough to let us have it in 2004. There was a bootleg released in 2000 which caused some controversy, enough so for the Daptone issue to have a note on the back cover that says "*Any other issue of this album with different cover art is an unauthorized BOOTLEG for which the artists have recieved NO ROYALTIES*." I've seen that bootleg, whoever made them tried to pass them off as a Desco release with the label logo and everything. Anyway, this band consists of Leon Michels (of El Michels Affair), Homer Steinweis (later to become drummer for the Dap Kings), Nick Movshon (also of El Michels Affair, and Antibalas), and Sean Solomon (also of El Michels Affair). The music on this album is Meters style funk straight down to the album cover (just compare this artwork to
Struttin
by the Meters) and they do it flawlessly. I remember when this was released and being blown away by how well they pulled off that New Orleans organ/guitar funk style. There are also four vocal cuts on the album sung by Joseph Henry. They are in more of a James Brown style and are very good but the real gold on this CD is found in the instrumentals.
Dap 00
4 Sharon Jones & the Dap-Kings- Naturally (2005)
Sharon Jones and her band return for their second full length, this time with a much more polished product. I have a hard time picking favorites but this may be my favorite Sharon Jones album. It's not too slick or over produced, it's just right. It's also got a beautifully sung ballad duet with Lee Fields called "Stranded In Your Love" and though the lyrics get a bit corny at times the song is too great for that to matter. From the slower paced songs like "Stranded..." and "All Over Again" to the dancefloor funk of "Your Thing is a Drag" and "Natural Born Lover", this is another great album from Sharon Jones and the Dap Kings.
Dap 005 Bu
dos Band- Budos Band (2005)
This is the debut album by The Budos Band. They are an 11 piece "afro soul" band hailing from Staten Island. What that means is that they mix afrobeat rhythms and instrumentation with that Daptone soul sound we've all come to know and love by now. On the album, as if 11 members isn't enough, they are joined by 5 very talented guests: Neal and Daisy Sugarman (of the Sugarman Three), Bosco Mann (a.k.a. Gabriel Roth of the Dap Kings), Duke Amayo (of Antibalas), and the great percussionist, Johnny Griggs (of the J.B.'s). This album is the perfect mix of afrobeat and soul and the musicianship is out of this world. Every groove is spot on with just the right amount of percussion and the horn section is always spot on. Also, on a side note, if you ever get the chance to see this band live, do it. They're fantastic.
Dap 006 Sugarm
an Three- Sugar's Bo
ogaloo (1998)
This is the Daptone reissue of this album which originally came out on Desco. For a review see my article devoted to Desco records.
Dap 007 Poet
s of Rhythm- Practice What You Preach (1993)
This is a
nother reiss
ue, however not of an old Desco title. The Poets of
Rhythm we
re a prior incarnation of the two men behind The Whitefield Broth
ers (who's album

In The Raw

cam
e out on
Soul Fir
e Records). In fact, this was their debut album, originally released all the way back in 1993, as the Daptone website says,

"
years before Desco, Daptone, DJ Shadow, Cut Chem
ist, or any of the rest of us ever got covered in the filth of raw funk.
"

This album just wreaks of the 1970's. The title track feels like an outtake from an old J.B.'s LP. After listening to this album you won't believe that
it came out as late as
1993 and that the band is from Germany. You'll think this came out in 1974 and was recorded by a band from Georgia.
Dap 008 The S
ugarman Three- Soul Donkey (2000)
This is another Desco reissue. For a review see my article on Desco Records
Dap 009 The
Daktaris- Soul Explosion (1998)
This is another Desco reissue. For a review see my article on Desco Records
Dap 010 Bob
& Gene- If This World Were Mine... (2007)
This is another reissue. It collects songs recorded by Bobby Nunn and Eugene Coplin between 1967 and 1972 for for Mo Do label, run by William Nunn, Bobby's father. Bob and Gene were two boys from Buffalo, New York who had a passion for music. They devoted themselves to writing these beautiful love songs. According to the liner notes a full length album was in the works but Mo Do records ran out of money before a full album by Bob and Gene could be made. Daptone remedied this by releasing this collection. This album is full of fantastic sweet soul from the duo filled with great horn work and beautiful harmonies.
Dap 011 The B
udos Band- Budos Band II (2007)
Budos Band return to offer another amazing piece of Staten Island Soul. This time it's a little less afrobeat and a little more soul, however that African influence is still very obvious and very noticeable throughout the entire album. There is not much to say about this album other than it's a great album. More great grooves brought to you by this world class rhythm section and more great horn work from one of the best horn sections in music today.
Dap 012 Sh
aron Jones & the Dap-Kings- 100 Days, 100 Nights (2007)
Sharon Jones & the Dap Kings return with their third album. This time around the production is even cleaner and more slick. Some songs, such as "When the Other Foot Drops, Uncle" and "100 Days, 100 Nights" have a strong gospel feel. The songwriting and instrumentation is much bigger this time around. There is orchestration, gospel backup vocals, more horns, piano, and organ. While some would criticize this album as saying that Sharon Jones has gone soft, I'd say she's just taking a step in a different direction. Would I like to hear another album of gritty funk in the style of
Dap Dippin
? Of course, but that doesn't make this a bad album. It's a great soul album, with very rich instrumentation.
Dap 0
14 Various- Como Now: The Voices of Panola County Mississippi (2008)
In 2006, Daptone started advertising in Panola County Mississippi for people to come to a certain church on a certain day and Daptone would record their songs for them. The result was this album full of a capella gospel music, originals and standards. I don't own this one yet because I'm not that big of a fan of gospel music and the fact that it's a capella also makes me hesitant. When/If i buy it I'll update this with a review.
Dap 0
15 Menahan Street Band- Make the Road by Walking (2008)
The Menahan Street Band, as far as members go, are an amalgamation of the Budos Band, El Michels Affair/Mighty Imperials and the Dap Kings. The music on their debut album, however, stands alone. It's a very clean and polished soul sound, reminiscent of El Michels Affair but the songwriting is slightly different. Every song on this album is as beautiful as it is catchy. They even dabble in reggae with the song "Montego Sunset."
Dap
016 Naomi Shelton & the Gospel Queens- What Have You Done My Brother (2009)
This album is brand new, no more than a month old. I have not had the chance to pick it up yet. However, Naomi Shelton also went by Naomi Davis back when she released a classic single on Desco Records "41st Street Breakdown b/w Catapult" and when she guested on Pure Cane Sugar by The Sugarman Three. The Daptone website says this is just as much of a soul album as it is a gospel album. I'll be sure to review it when I'm able to buy it.
Dap 12
002 Budos Band- Budos Band EP (2009)
-Review coming soon-
Dap 017 P
ax Nicholas and the Nettey Family- Na Teef Know De Road of Teef
Nicholas Nettey joined Fela Kuti's Africa 70 as a conga player and backup vocalist in 1971 and recorded with Fela through 1978 (For those not in the know, Fela is the King of Afrobeat and 1971-1978 is his greatest and most influential period). This album, one of 2 which he recorded on the side during his time with Fela, was recorded in 1973 at Ginger Baker's studio in Lagos, Nigeria. It is a lost afrobeat classic and the story of how it was found seems to good to be true. The man behind the Voodoo Funk blog found it in the back room of a record store in Philadelphia among a stack of African LP's. He found Nicholas Nettey who had been living in Berlin for quite some time and approached Daptone Records about reissuing it. There were no master tapes so luckily for us the record he found in Philly was in beautiful condition and this CD Reissue was remastered directly from that LP. The album was 4 songs, each masterpieces in their own right. They are slower, more low-key, and more groove oriented than Fela's material at the time. The stars of the album are the organ, the horns, and the percussion. The organ is comes to the front no matter what its part in the song is. The horns are simplistic and catchy, the percussion makes the beat infectious, and the vocals really add to the groove. We are all indebted to Daptone for bringing this lost classic to our attention.
Dap
018 Various- Daptone Gold (2010)
This is a compilation covering the first ten years of Daptone Records. It has material from the albums released by Sharon Jones & The Dap-Kings, Budos Band, Menahan Street Band, and Naomi Shelton & The Gospel Queens. It also has singles by Binky Griptite & The Mellomatics, Lee Fields, Antibalas, Sharon Jones & The Dap-Kings and Charles Bradley. This set is worth it for any Daptone fans for the songs which were only previously available on 45's and for the 2 exclusive songs: "A Love Like Me" by Binky Griptite and The Sugarman Three, "Giving Up" by Sharon Jones & The Dap-Kings.
Da
p 019 Sharon Jones & the Dap-Kings- I Learned the Hard Way (2010)
This, the fourth album by Sharon Jones & The Dap-Kings, is another beautiful soul album we have all come to expect from the band. It isn't as smooth and polished as 2007's
100 Days, 100 Nights
and the gospel tinge found on that album is nowhere to be found. What we have is just a very danceable sweet soul album, though some songs are sweeter than others. There aren't any surprises on this album but there doesn't need to be. Sharon Jones & The Dap-Kings know how to play soul.
Dap 020 Bud
os Band- III (2010)
This is their best, most haunting album yet. The grooves are scary and the production is very dark but it will still immediately make you get up and dance. The playing and songwriting is top notch and the Budos horns are just as amazing as they always are.
Dap 021 Ch
arles Bradley- No Time For Dreaming (2011)
Daptone's newest release, Charles Bradley's
No Time For Dreaming
is being released this Tuesday. The man has been singing for many years but has only made a few appearances with the Brooklyn funk crew so far. His first, to my knowledge, was "Take It As It Comes" with the Sugarman Three on
Pure Cane Sugar
. He has also released 3 singles on Daptone, one of which being a Christmas 45, the three others being songs from his upcoming album. Menahan Street Band are backing him for his full length debut. Review coming soon.
Daptone has also released two singles collections, however they are download only through Itunes and emusic. Since I don't ever buy music through itunes and I really hate having to buy music through Itunes, I haven't gotten either of them. It actually kind of bothers me that a record label so addicted to vinyl would release something that is only available as a download instead of putting a nice package together. However, because it IS Daptone and I know I'll love the music once I finally get my hands on it, I'm sure I will cave and get them eventually.
For more information on Daptone Records check out their website
here
.
Coming Soon: Truth & Soul